Your Time
Is Too Valuable
To Spend It Messin'
With a Mineral Feeder
Livestock Mineral Feeder
Model #LMF10
You've experienced it all - rotating feeders that don't quite rotate, welded legs that come unwelded, rubber flaps that disintegrate with little use, frozen bearings and feeders frozen in the ground. Our Brower - tuff mineral feeder is easily moved from pasture to pasture. Our mineral feeder is easily used by animals, protects feed and mineral and protects your time.
Model #LMF10
Most any animal is attracted to this feeder and readily learns to use it. No training is necessary.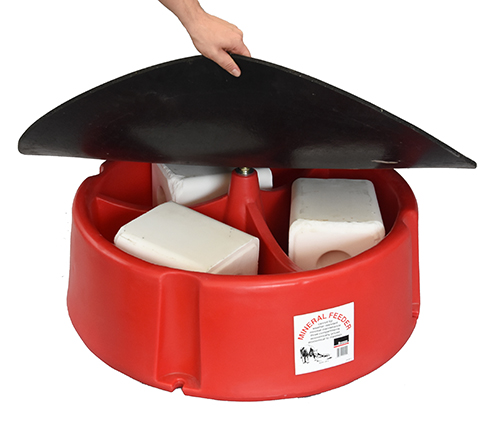 Mineral Feeder
Model #LMF10
Unquestionably the Best Flap Available!
We sell thousands of replacement flaps on competitive feeders.
Our feeder is a superb tool for helping your mineral program be a success.
BROWER
Tuff Features
Your Animals
Will Like This Feeder
Mineral Feeder
Model LMF10
Your Animals Will Like This Feeder Because They Cannot Hook Their Horns, Hooves And Hides On Exposed Sheet Metal, Steel Latticework Or Straps.
Heavy-duty 41 inch (104.1 cm) diameter flap protected by rubber disk. Before you purchase any other feeder, ask experienced users how well competitors' flaps hold up compared with Brower's flaps.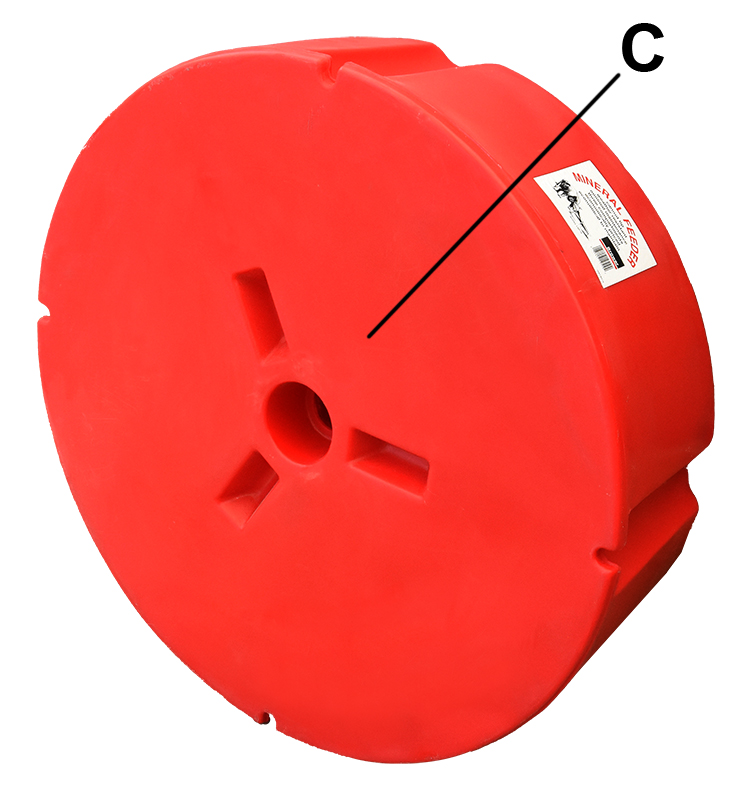 FEATURES
For Model LMF10
A. Molding process engineered to permit extra material to flow into center post for extra strength. Post has a 6 inch (15.2 cm) diameter base and is further supported by three partitions.
B. Holds three 50 lb. (22.7 kg) salt or mineral blocks. Can accommodate larger blocks up to 12 inches (30.5 cm) square. Also holds 200 lbs. (90.0 kg) of loose supplement level-full.
C. Solid bottom. Cheap imitations leave an exposed cavity (and leave a hole in your pocketbook).
D. Four notched flanges for easy anchoring. High density polyethylene. Hindered amine light stabilizer, the most effective ultraviolet inhibitor.
E. Link pin allows flap to ride up when lifted by animal; this permits "give" and extends life of flap and feeder.

Why Purchase
Our Mineral Feeder?
Why you want to purchase our mineral feeder and not purchase any mineral feeder on a pedestal or otherwise elevated:
Cows eating with their heads in the downward "natural grazing position" produced 17% more saliva than those eating from an elevated surface. Additional salivation had a direct positive influence on the efficiency of rumen function. Overall digestion was significantly enhanced.
Milking cows were observed for the occurrence of feedtossing behavior. About 10% of the cows engaged in this excessive sorting and throwing of feed. As a result of feed tossing over their backs and along their sides, feed wastage for these cows ranged up to 10 percent. When given the choice of eating from an elevated (28 cm - 11 inches) bunk versus one at ground level, the cows chose the lower level and feed tossing was not observed. The authors of this study concluded that feed sorting and throwing is an engineering problem. The solution is designing equipment which permits cattle to feed "in the natural, head-down, grazing-like position."
BROWER
LMF20
Significant Shipping
And Cost Advantage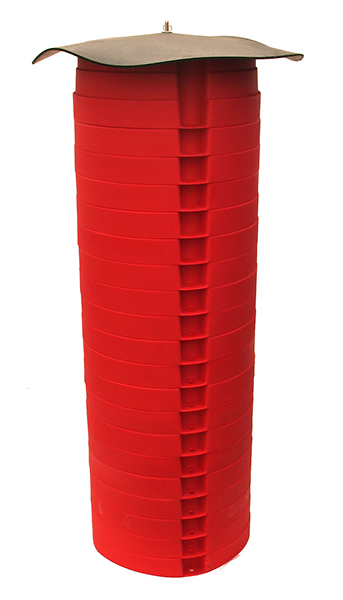 Mineral Feeder
Model LMF20
Model LMF20 is shippable via ground package service with no oversize charges.
Model LMF20 nests 20 feeders per pallet. The stack is 90" (228.6 cm) tall or 95" (241.3 cm) tall including the pallet.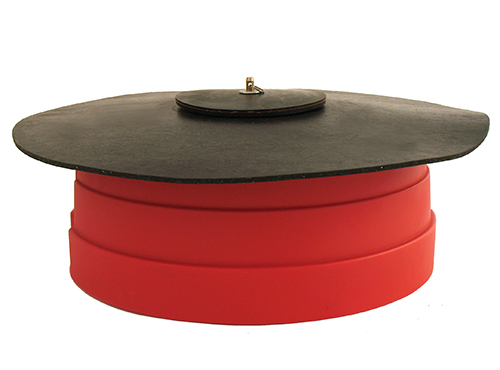 Mineral Feeder
Model LMF20
Our Model LMF20 Mineral Feeder sports the quality features of our original Model LMF10 Mineral feeder, yet LMF20 is designed and sized to reduce the cost of shipping.
Heavy duty 36 inch (91.4 cm) diameter flap protected by 11 inch (27.9 cm) rubber disk. At virtually every farm show we attend, producers want to buy our flap to replace flaps on competing feeders.
Best Flap on the Market!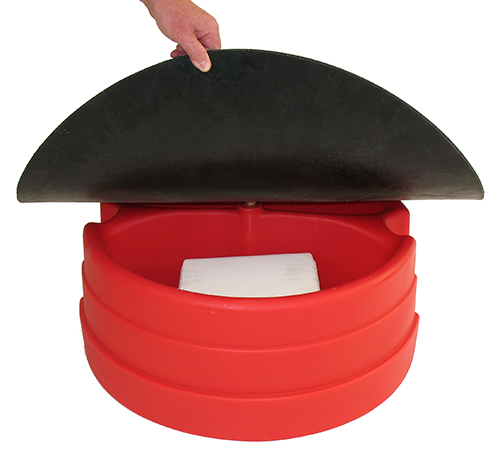 High density polyethylene. Hindered amine light stabilizer, the most effective ultraviolet inhibitor.
The feeder has two compartments. The feeder will hold two standard mineral or salt blocks or a total of about 150 lbs. (68.2 kg) of loose mineral.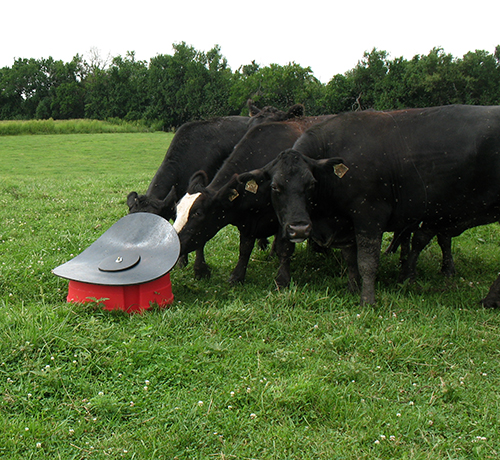 BROWER
Insect-A-Sock
Allows Self Treatment
Durable and Effective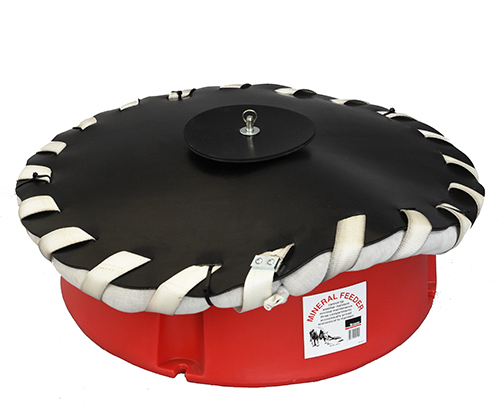 Insect-A-Sock
Model LMFFA
Our two inch diameter sock attaches to the outside of our flap. The sock is filled with acrylic fibers. Insecticide solution clings to the surface of the fibers. As one of your animals lifts the flap to eat mineral, the solution wicks away from the fibers to treat the face, head and shoulders.
The proper use of our Insect-A-Sock helps to control face flies, lice, ticks and mosquitoes. Face flies are common transmitters of bacteria which cause pink eye.
Use an EPA approved insecticide and follow the instructions. Mix insecticide with a carrier not known to cause eye or skin irritation. The carrier should be pH neutral and cost effective. Re-charge the sock with about one gallon of mix every 7 to 10 days during fly season.
Download
MINERAL FEEDER PAGES